How to Provide an Exceptional Signing Experience and Reduce Costs
A step-by-step guide for Title companies to lower cost-per-signing and achieve operational efficiency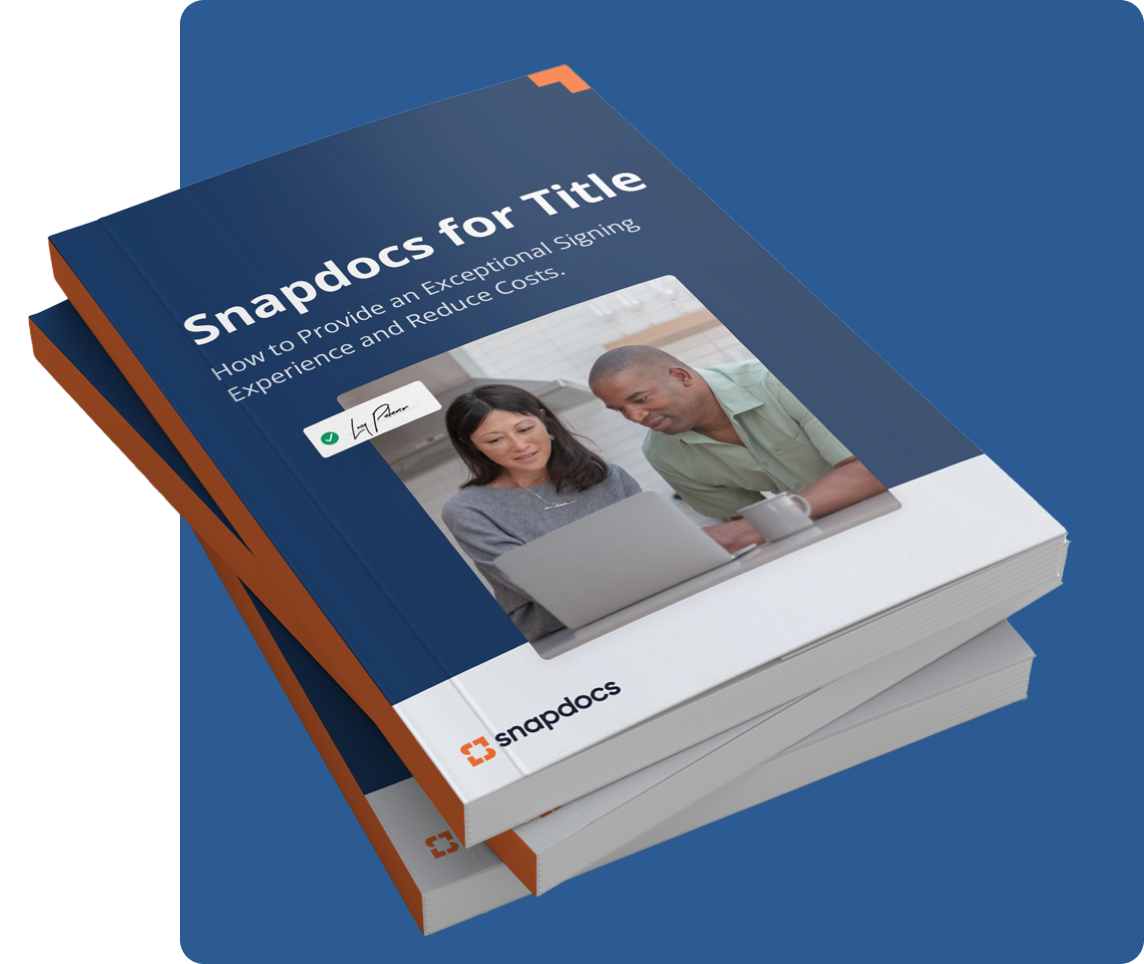 Overview
As the mortgage industry adapts to today's challenging operating environment, Title companies are focusing on three key areas: cost reduction, risk management, and customer experience.

How do Title companies achieve cost efficiency while ensuring customer satisfaction is not compromised?

This Guide is for leaders at top Title companies who wish to drive cost efficiency, manage compliance and security risks, remain audit-ready, and provide quality experiences for their customers.
What's in the Guide
In this Guide, learn how Title companies use the Snapdocs Scheduling Platform to:
Ensure data compliance and safely manage PII

Provide referral-worthy signing experiences

Optimize and reduce notary fees

Achieve 24/7 preparedness for audits

Maintain control of the signing process
Learn more about Snapdocs

Founded in 2013, Snapdocs is the mortgage industry's leading digital closing platform. With its patented AI technology and connected platform, Snapdocs is on a mission to perfect mortgage closings for all. ​Powering millions of closings a year, Snapdocs is leading the charge to modernize, streamline, and improve the mortgage process for lenders, borrowers, and settlement. Snapdocs is the only solution with a proven track record of creating a single, scalable process for every closing. ​Every day, over 130,000 mortgage professionals rely on Snapdocs to automate manual work and digitize paper processes that plague the industry. Snapdocs is a rapidly growing San Francisco based real estate technology company backed by leading investors including Sequoia, Y Combinator, Tiger Global, F-Prime, Zigg Capital, Alkeon, Wellington Management, Greenpoint Partners, Maverick, Founders Fund, SV Angel, Gokul Rajaram, Lachy Groom, Jack and Sam Altman and Coyne Lloyd. To learn more, please visit​​​​ snapdocs.com​.
Become an eClosing Expert
Lead your organization's digital closing transformation.
Learn more about: Resources for Title Companies
Ready to get started with digital closings?
Start eClosing in five weeks. Go all-digital in five months.
Snapdocs digital mortgage closing experts are here to help you get started fast.