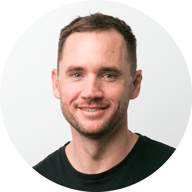 Beyond the tipping point of digital mortgage closing
By Aaron King, founder and CEO
I got my first job at a mortgage company in 1997 when I was still in high school. I got my notary license as soon as I turned 18 and started doing mortgage closings full time. A few years later, I founded a nationwide mortgage closing service and have been working to perfect mortgage closings ever since.
Over the past 24 years, I've seen several waves of digital closing promises rise and fall. Good technology components were built, courageous companies pushed the digital envelope, countless press releases boasted partnerships and first transactions. But behind the scenes, the real story of closings remained a manual and paper-based process while most other industries realized the incredible benefits of digitizing and moving workflows online.
I started Snapdocs 8 years ago based on the hypothesis that the industry needed critical digital infrastructure connecting all these components before it could move online. I set out to build a company that operated in the background, doing the hard work of connecting all the technologies, companies, and individuals so our customers could orchestrate perfect digital closings at scale. In doing so, we'd create a product that improved the lives of everyone we connected.
Our approach has resonated. Transactions on the Snapdocs digital platform have steadily increased to millions of closings a year. The number of lenders and title companies utilizing our technology every month now ranks in the thousands. Hundreds of thousands of real estate and mortgage professionals are now leveraging Snapdocs to manage and grow their businesses every month.
Based on this momentum, Snapdocs has recently raised $150 million in Series D funding. This investment brings our total funding to $260 million and our valuation to over $1.5 billion. I've hesitated announcing details like valuation in the past because I wanted to keep the focus on the metrics that really matter: successful transactions and successful customers. But I believe this valuation is worth disclosing because it speaks to the scale, value, and enduring nature of what we're building.
This growth and progress signifies a very complex mortgage closing process finally moving online. In the past year, digital closing went from early adopters to mainstream, and from a nice-to-have option to a must-have capability.
Our Lender and Title Company customers and partners are eliminating errors, empowering borrowers, and running their operations more efficiently than ever before. As someone who has dedicated their professional life to this industry, I could not be more excited or more proud.
We take our role in this industry seriously, and we know that however big we get, the ecosystem of companies and partners we work with will always be even bigger. I want to recognize the lenders, title companies, LOSs, POSs, eVaults, webcam notary providers, title production systems, notaries, and attorneys that make up the fabric of this industry. Our progress with digital closings wouldn't be possible without the work of countless business owners, entrepreneurs, and operators we've had the joy of partnering with to build something great.
We're still at the beginning of a long journey. Delivering on the promise of a smooth and beautiful mortgage closing experience is going to require a lot of hard work, but we're excited for the opportunity. We're grateful to be a central part of this ecosystem and to work with such fantastic partners and customers. Thank you for giving us the opportunity to earn your trust and your business. Everything we do is in service to your success.